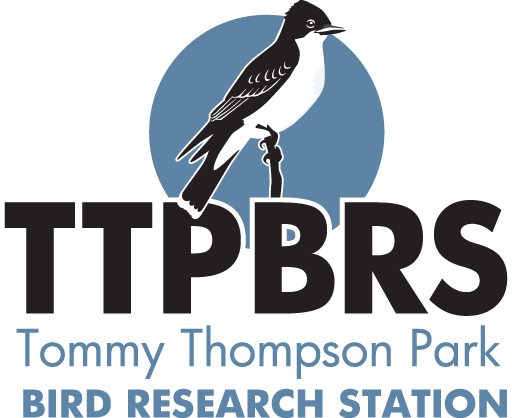 Tommy Thompson Park Bird Research Station
Our goal is to improve the understanding and protection of birds and their habitats through monitoring, research and education.

As a globally significant Important Bird Area and "urban wilderness" on the Toronto
waterfront, Tommy Thompson Park provides a unique location to monitor bird populations and offer outreach and
education programs.
TTPBRS is an initiative of Toronto and Region Conservation Authority (TRCA) and is operated in partnership with the Toronto and Region Conservation Foundation (formerly The Living City Foundation).

Why Monitor | Programs & Research | Reports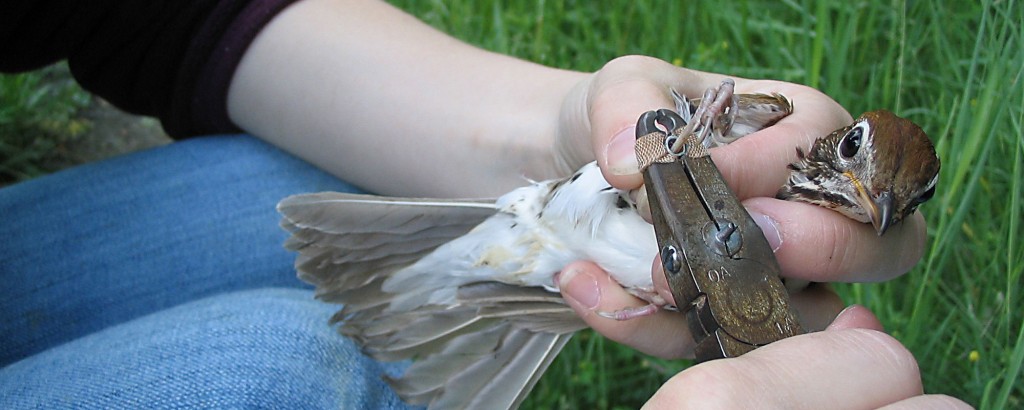 Birds play an important role in our ecosystems. They pollinate plants, disperse seeds, eat insects and rodents, and are eaten by mammals and reptiles.
They are also indicator species: they are highly sensitive to environmental changes and hazards (think Canary in a coal mine) and can provide early warning that something is wrong. We get this warning by monitoring bird populations over time.
It's best to undertake population counts when birds are breeding, but, many birds do so in faraway and remote locations. Fortunately, they migrate through accessible regions on the way to winter grounds. As such, we monitor migratory birds to track changes in their populations. Long-term monitoring and analysis guides regional, national and international environmental conservation efforts.
Did you know: Toronto is a migratory bird superhighway. Millions of birds migrate through the city spring and fall.
Did you know: Tommy Thompson Park is a globally significant Important Bird Area.  It is a critical stopover point for birds as they migrate over Lake Ontario between Toronto and New York State. 
Did you know: There are more than 10,000 species of birds around the world, all with different habitat needs?
Many songbirds breed and winter in remote locations, making it difficult to measure their populations accurately. Therefore, we monitor birds during migration, as they travel through rural and urban areas between their end destinations. Migration monitoring consists of a daily census count and bird banding.
TTPBRS is a member of the Canadian Migration Monitoring Network, one of 26 stations across Canada that collect regular capture (banding) and observation data during spring and fall migration. We submit data to the national bird banding office where it adds to an international database. From there it contributes to reporting on North American bird populations and guides conservation efforts in the Western Hemisphere.
At Tommy Thompson Park we use the migration monitoring data to study stopover ecology and help plan our restoration and conservation projects. We have banded more than 70,000 birds at TTPBRS since opening in spring 2003!
We monitor breeding bird populations and their habitats at Tommy Thompson Park through the Breeding Bird Survey. We attempt to find all bird nests within the park and track their productivity during the summer months. Our historical breeding bird list now contains 70 species! The Breeding Bird Survey results also guide habitat restoration and ecological management at TTP.
| | |
| --- | --- |
| Migration Monitoring at Tommy Thompson Park Bird Research Station | The Breeding Birds of Tommy Thompson Park |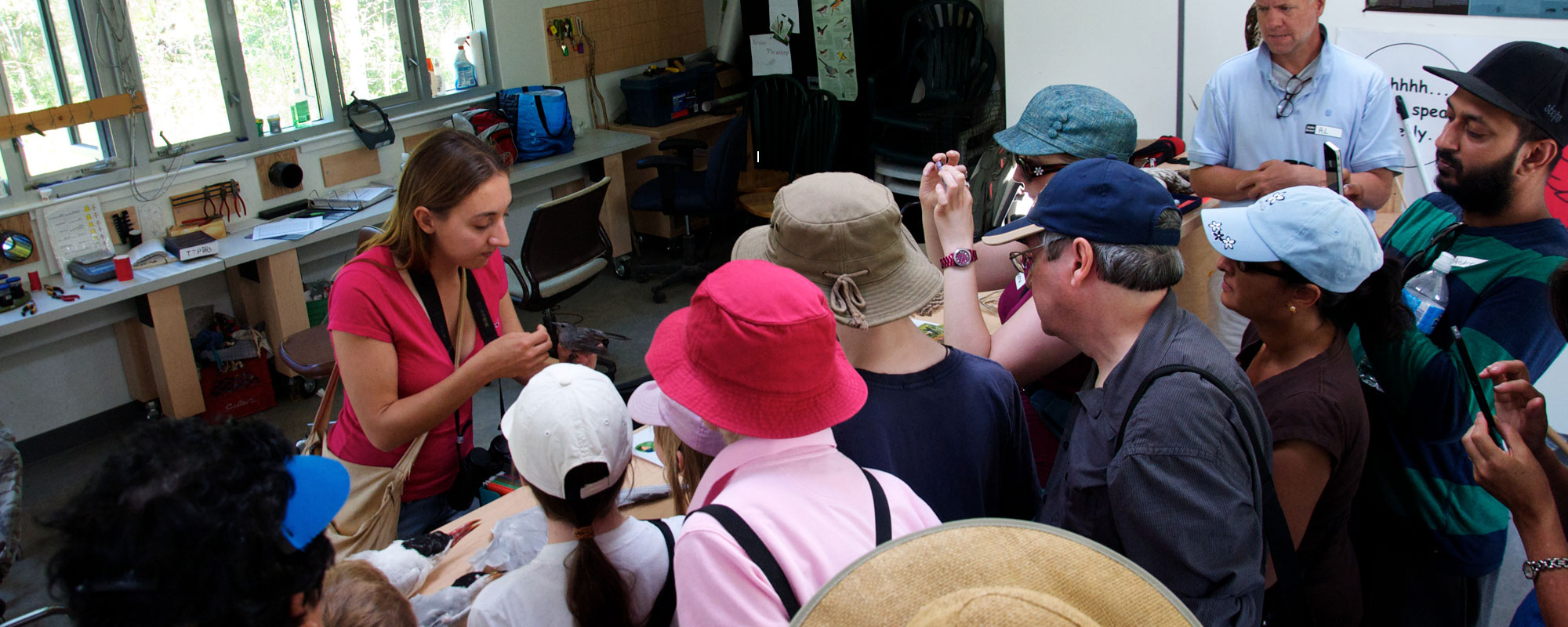 Visitors are always welcome at the Tommy Thompson Park Bird Research Station when Tommy Thompson Park is open!
Hours and Dates
Weekends and holidays from dawn to approximately noon: April 1 to June 9; August 5 to November 12
Map
Did you know: We are only accessible by foot or bike. TTPBRS is approximately 2.5 kilometres from the parking lot.
Park rules: No dogs, no motorized vehicles.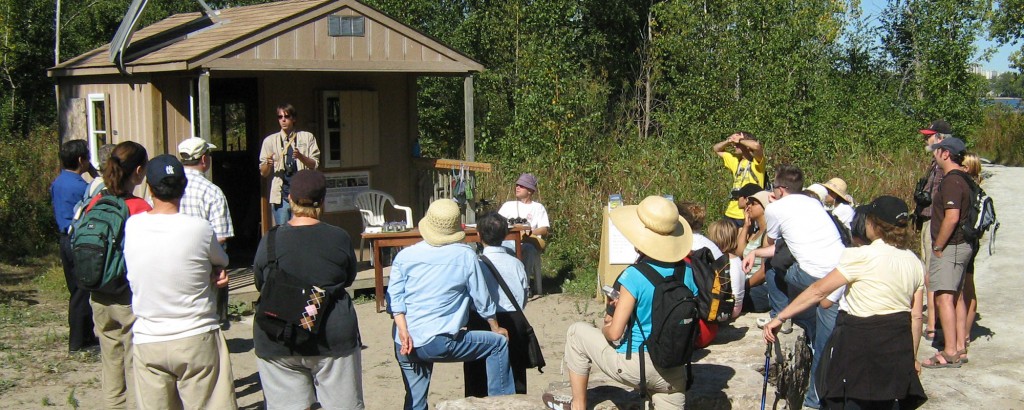 You can assist local bird conservation efforts by lending your support to the TTPBRS. The long-term operation of TTPBRS and the successful delivery of its programs are dependent on support from the local community. We need support in the form of volunteers and donors.
Volunteers lend valuable assistance to us and in return receive training and a rewarding experience with birds in the field. We typically have space for 20-30 volunteers per year although there are usually no more than 5 vacancies per year.
Volunteers help in many ways, including bird banding and surveys, nest searching, data management, habitat assessment, maintenance, administration and interpretive duties.
Training is provided to those selected as participants in any of our programs. Some of our volunteers who began their training at TTPBRS have gone on to work as biologists across North America including Ohio, British Columbia, Costa Rica and various locations in Ontario.
Since opening the research station we have received a high level of interest in volunteering for our monitoring programs, but unfortunately because space is limited we cannot provide opportunities for everyone in these programs. Applicants with suitable skills and a genuine passion for birds or intend to pursue a career in ornithology are given priority for participation in bird monitoring programs.
TTPBRS is operated by Toronto and Region Conservation Authority (TRCA) with support from the Toronto and Region Conservation Foundation (formerly The Living City Foundation), a non-profit registered charity. 100% of your donation to TTPBRS supports our monitoring, research and outreach and education programs.
The Toronto and Region Conservation Foundation is an independently-governed charitable organization dedicated to the protection and restoration of the natural environment in the Toronto region. Donations to TTPBRS are gratefully received either on-site at the research station or online donation via the Toronto and Region Conservation Foundation.