Visiting Tommy Thompson Park
Exploring Tommy Thompson Park
Tommy Thompson Park is a great place to experience nature and the outdoors. It is widely considered one of the best places for bird-watching in the city, with more than 300 recorded species. It's also a prime destination for wildlife viewing and fishing.
In addition to its unique natural features, the park offers picturesque views of the Toronto skyline and Lake Ontario.
Spring, summer, and fall are the most popular seasons for recreational activities such as hiking, running, roller-blading and leisure cycling on the park trails. Quadcycles are also available for rental. LEARN MORE ABOUT QUADCYCLES.
Some hardy individuals will also brave the cold and explore TTP in the winter months, enjoying the opportunities for cross-country skiing or snowshoeing. Please note that trails are not maintained in the winter.
Park Hours
Tommy Thompson Park is open to the public:
Weekday evenings 4:00 p.m. to 9:00 p.m.
Weekends and holidays 5:30 a.m. to 9:00 p.m.
Nature Centre is open
Weekends and holidays:
April to October 11:00 a.m. to 4:00 p.m.
November to March 11:00 a.m. to 2:30 p.m.
Tommy Thompson Park is CLOSED to the public weekdays until 4:00 p.m.
HOW TO GET THERE
Address: Tommy Thompson Park, 1 Leslie Street, Toronto
By Car: The park entrance is located at Leslie Street and Unwin Avenue. This is five minutes east of the DVP/Gardiner junction along Lake Shore Blvd East.
Parking: There is a free parking lot at the Tommy Thompson Park entrance. Street parking is also available on Leslie Street and Unwin Avenue.
By TTC: Tommy Thompson Park is a 5 minute walk from the Commissioner's Street bus stop at Commissioner's and Leslie. This stop is serviced by the 83 Jones Southbound bus. Route 83 runs between Donlands Station on Subway Line 2 and Commissioner's Street.  Connections with Streetcar routes 501, 502, 503 and 506, and bus routes 56 and 31B along the scheduled route.
By foot/bike: The Martin Goodman Trail/Waterfront Trail passes Tommy Thompson Park between Woodbine Beach and Cherry Beach. This is a multi-use trail. 
Park Rules



Please Note the Following:
Embayment D, B and A are important wildlife areas, boating is not permitted.
Cell 1, 2 and 3 are confined disposal facilities and boating is not permitted in these areas.
Swimming is not permitted anywhere at Tommy Thompson Park.
No e-bikes, no motorcycles, no drones, no skating, no fires, no camping, no motorized skateboards/hoverboards.
Removing anything from the park is not permitted. This includes: plants, plant parts, sediment, bricks, wildlife in any form etc.
Please stay on trail.
Respect wildlife, following our policies.

Before you visit
Water
There is no running water in the park. Be sure to bring extra water with you.
Washrooms
There are 3 accessible portable toilets throughout the park (at the Parking Lot, Staff Booth and at Peninsula C). Vault toilets are available on weekends from Spring to Fall at the Outdoor Classroom. A standard portable toilet is located at the Peninsula D lookout.
Pets
Pets, including dogs are not permitted in the park.
Vehicles & e-bikes
Motorized vehicles, including e-bikes are not permitted in the park.
Sound
The use of amplified sound is not permitted in the park. Please use earphones if you're listening to music while in the park.
Biting Insects
European fire ants are abundant at Tommy Thompson Park. This non-native species bites and the severity of the reaction varies from person to person. Typically it's very sharp and painful for a few minutes, subsiding into an itch similar to a mosquito bite. To avoid an ant bite, avoid brushing up on plants and tuck your pants into your socks. Brush off any ants that you may find climbing on you.
Ticks have been reported in Tommy Thompson Park. It is possible they can carry Lyme Disease. It is advised that anyone walking along nature trails should thoroughly check themselves for ticks after a visit. LEARN MORE.
Renting Quadcycles
Quadcycles are available for rent from the Nature Centre, to help you journey into the park's interior.
Availability is on many Saturdays and Sundays this spring, summer, and fall from 10 a.m. – 4 p.m. Quadcycles are rented on a first-come-first-served basis through the day. Click on the plus sign below for more details about renting quadcycles.
Upcoming quadcycle rental dates: 
Please note that if heavy rains and/or thunderstorms are forecasted on a rental date, quadcycle rentals will be cancelled for that day. 
The quadcycle rental season for 2023 has ended. Enjoy the winter season and check back in the spring for updates!
Quadcycles are four-wheeled cycles – stable for riding, with a sun-shelter roof. Outer riders pedal; centre bench seat rider does not.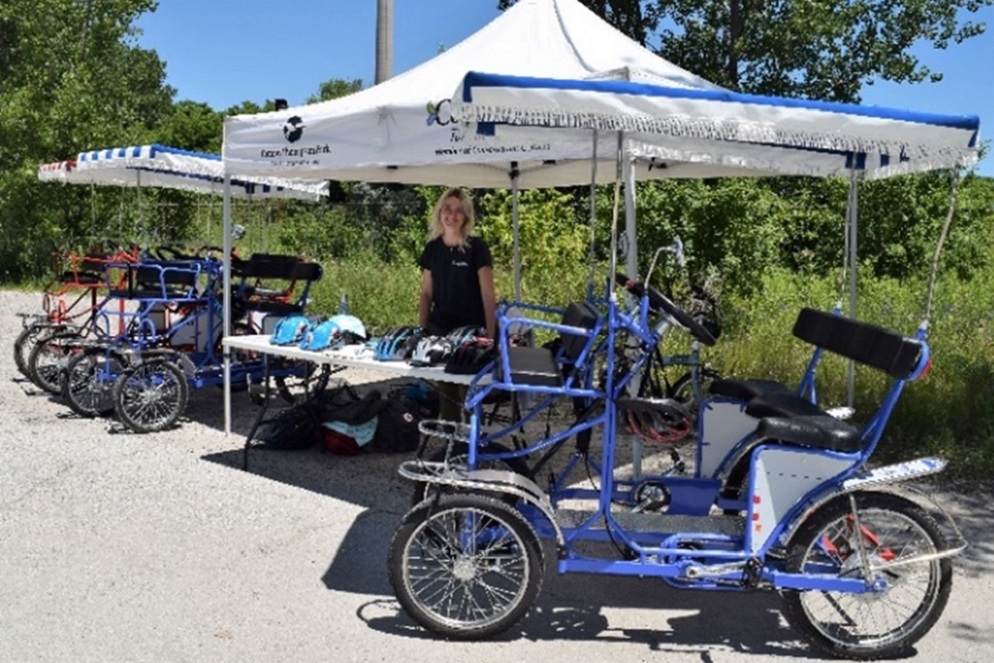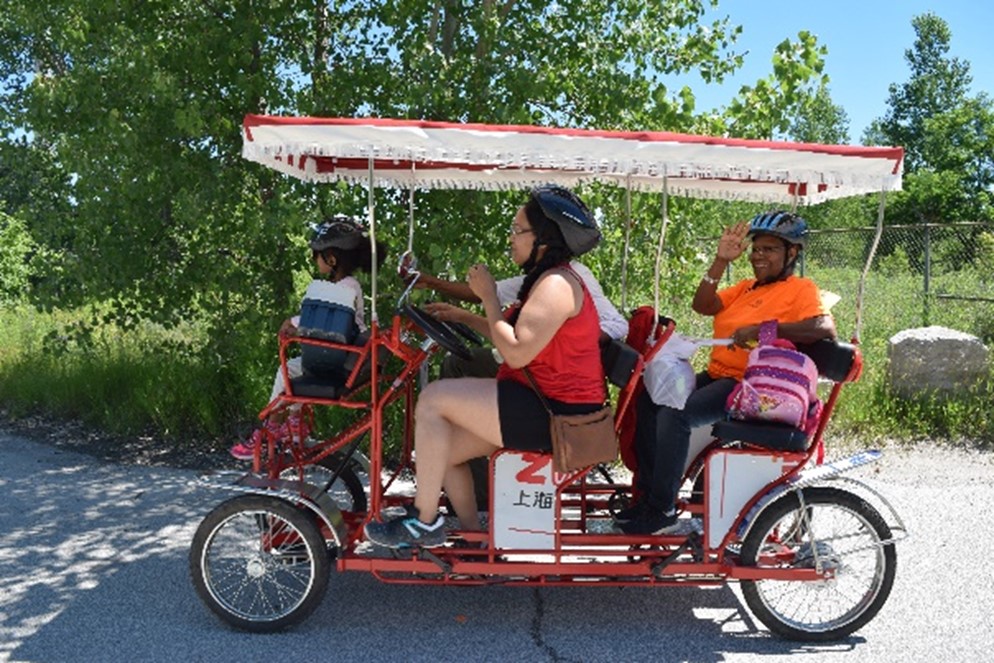 Options Available:
Single bench: Accommodates 3 people + one child in the front carrier*
Double bench: Accommodates 6 people + one child in the front carrier*
*Front carrier weight may not exceed 40 lbs.
Cost:
Bike rental funds support achievement of Tommy Thompson Park's objectives.
Single bench: $24/hour plus a $12 deposit**
Double bench: $38/hour plus a $19 deposit**
**Deposit is refunded upon return of the quadcycle within the pre-arranged time.
Please Note the Following:
Minimum rental: one hour, tax included.
Payment methods include credit card only.
A minimum of one rider must be at least 18 years old.
Riders under 18 are required to wear a helmet while on the quadcycles.
We have helmets available to loan at no charge. Customers are also encouraged to bring their own helmets.
Quadcycles are permitted ONLY on the main Multi-Use Trail, as far south as the red pedestrian bridge.
For more information about quadcycle rentals, call 437-221-6971.
Tackleshare
Fishing rods, reels, and tackle boxes are available for loan at the Nature Centre … just like a library book!
Call TTP Staff 416-990-8058 to ensure rods are available
Visit our Nature Centre (formerly Staff Booth) open from 10AM to 5PM
Fill out a quick sign out form
Go Fishing!
Return gear the same day
and repeat!
Since its launch in 1998, the OFAH Tackleshare program has become a province-wide success with over 140 loaner sites. Thanks to this program, accessibility to angling equipment is no longer a barrier, and children and families are able to get involved in recreational fishing together.
Owl Viewing and Reporting Policy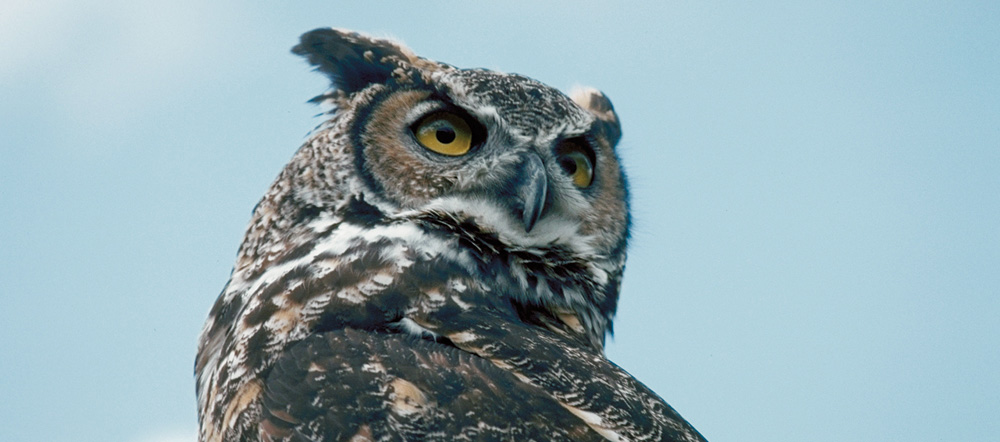 Tommy Thompson Park is fortunate to host a few owls during the winter as they move south from their nesting grounds in search of food. Human presence can be stressful for owls, so it's important to know some owl facts and follow simple guidelines to ensure their safety.
OWL FACTS
Owls need to spend time doing two critical activities: hunting and resting. They spend most of their waking hours hunting for food.
An owl that is disturbed while resting during the day may not be fit to hunt at night. Likewise, an owl hunting during the day needs to be left alone to find its prey.
Human disturbance uses up valuable energy during the cold winter months and may prevent the birds from hunting properly.
Ultimately, owls that cannot effectively hunt will die. Please view owls respectfully to avoid fatally disturbing them.
SIGNS THAT AN OWL IS STRESSED
Eyes wide open and staring directly at you
Behaviour changes in response to your presence
Ear tufts straight up, eyes reduced to slits
Rapid blinking and/or panting
Defense display (wings spread and body puffed up) or signs of aggression
HOW TO WATCH AND PHOTOGRAPH OWLS ETHICALLY
Keep a minimum 12m distance.
Limit viewing time to a few minutes, or less if the owl appears stressed.
– Remember that trying for the "perfect" photo may be depriving an owl of much-needed rest or food.
Be quiet. Walk and speak quietly when around an owl.
Never chase an owl if it flies away.
Stay on trails.
Do not trim plants or branches to obtain a better view or photo.
Never use flash photography, especially after dark.
Audio playback should not be used to attract an owl unless conducting authorized ornithological research.
Never bait an owl. Allowing owls to become accustomed to being fed by humans can lead to collisions with vehicles and buildings.
Refrain from reporting owl sightings on the internet or birding hotlines. Use discretion when sharing information about an owl and do not share an owls' exact location.
If you see anyone disturbing owls or other wildlife, call the TTP staff line (416- 990-8058 weekends 9 a.m. to 4:30 p.m.) or the TRCA general line (416-661-6600 press "0" for immediate assistance). Wildlife harassment can also be reported to the Ministry of Natural Resources at 1-877-TIPS-MNR.